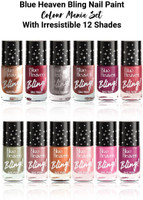 Disclaimer: I get commissions for purchases made through links in this post.
Product Description
Get a shade for every mood with Blue Heaven Bling Nail-paint - a range of 48 trendy and vibrant must have shades. With a creme gloss finish, long lasting formula and fan-shaped brush these nail lacquers ensure that the colour stays fresh and on for really long. Pick a shade of your choice and you're all set to shine with this look.
How to get this deal:-
Click On Get Deal
Add BLUE HEAVEN Bling Nail Paint Colour Mania Set MultiColor(Pack of 12) in the cart from the offer page.
Select your address, Payment method and Place Your Order
Pricing Details
BLUE HEAVEN Bling Nail Paint Colour Mania Set MultiColor(Pack of 12) is available online in India at an offer price of ₹ 470 (44% discount from MRP) on
Flipkart
. Discounted Price: ₹ 470. MRP: ₹ 840. Savings: ₹ 370. Discount: 44 %. Store: Flipkart. This deal was updated by
snuverma
on Jul, 20 2023 at 03:01 pm
ShortDeals.in is a participant in the Amazon Services LLC Associates Program, an affiliate advertising program designed to provide a means for sites to earn advertising fees by advertising and linking to Amazon.in
"Amazon and the Amazon logo are trademarks of Amazon.com, Inc. or its affiliates."
All the Logos and Brand names are property of their respected Owners. Shortdeals.in may be compensated if consumers choose to utilize some of the links located throughout the content on this site and generate sales, Lead, Signup, Joining or any other Action on the merchant Platform.