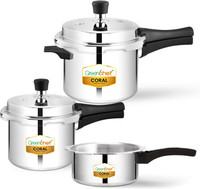 Disclaimer: I get commissions for purchases made through links in this post.
Product Description
Greenchef Coral pressure cooker combo of 2, 3 and 5 liters are perfect for your cooking needs. The body and lid are made from aluminum. Sturdy Bakelite handles provide extra grip and comfort, making it ideal for regular use. Ergonomically designed, made through food grade virgin aluminum that stays bright, does not corrode. These cookers are easy to clean and extremely hygienic. Precision weight valve a safety feature to release pressure, which makes the cooking safe and time saving for you. Greenchef pressure cookers are strong, safe and durable. Made from right quality material it is both affordable and durable. Use this cooker to cook a wide range of delicacies including rice, dal, sabzi preparations and more.
How to get this deal:-
Click On Get Deal
Add Greenchef Coral Combo Non IB 5 L, 3 L, 2 L Pressure Cooker(Aluminium) in the cart from the offer page.
Select your address, Payment method and Place Your Order
Pricing Details
Greenchef Coral Combo Non IB 5 L, 3 L, 2 L Pressure Cooker(Aluminium) is available online in India at an offer price of ₹ 1,249 (59% discount from MRP) on
Flipkart
. Discounted Price: ₹ 1,249. MRP: ₹ 3,099. Savings: ₹ 1,850. Discount: 59 %. Store: Flipkart. This deal was updated by
karan
on Dec, 16 2022 at 09:51 am
ShortDeals.in is a participant in the Amazon Services LLC Associates Program, an affiliate advertising program designed to provide a means for sites to earn advertising fees by advertising and linking to Amazon.in
"Amazon and the Amazon logo are trademarks of Amazon.com, Inc. or its affiliates."
All the Logos and Brand names are property of their respected Owners. Shortdeals.in may be compensated if consumers choose to utilize some of the links located throughout the content on this site and generate sales, Lead, Signup, Joining or any other Action on the merchant Platform.