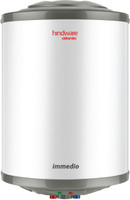 Disclaimer: I get commissions for purchases made through links in this post.
Product Description
You can get a plentiful supply of hot water for bathing with the high-performance Hindware Immedio 15 L Water Heater. It sports a compact size and can be installed in any small area. Additionally, its sophisticated design will add to the interior of your home. Also, this water heater boasts a high-quality, 2000 W copper heating element that provides hot water quickly. This not only helps you save valuable time but also adds ease to your daily tasks. Moreover, this water heater is protected from corrosion courtesy of its glass-lined tank construction.
How to get this deal:-
Click On Get Deal
Add Hindware 15 L Storage Water Geyser (Immedio, White) in the cart from the offer page.
Select your address, Payment method and Place Your Order
Pricing Details
Hindware 15 L Storage Water Geyser (Immedio, White) is available online in India at an offer price of ₹ 5,199 (51% discount from MRP) on
Flipkart
. Discounted Price: ₹ 5,199. MRP: ₹ 10,790. Savings: ₹ 5,591. Discount: 51 %. Store: Flipkart. This deal was updated by
karan
on Dec, 16 2022 at 09:44 am
ShortDeals.in is a participant in the Amazon Services LLC Associates Program, an affiliate advertising program designed to provide a means for sites to earn advertising fees by advertising and linking to Amazon.in
"Amazon and the Amazon logo are trademarks of Amazon.com, Inc. or its affiliates."
All the Logos and Brand names are property of their respected Owners. Shortdeals.in may be compensated if consumers choose to utilize some of the links located throughout the content on this site and generate sales, Lead, Signup, Joining or any other Action on the merchant Platform.