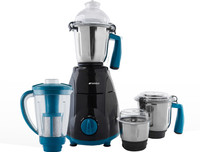 Disclaimer: I get commissions for purchases made through links in this post.
Product Description
Grinding wet, dry, and/or hard spices to make pure and organic masalas in your kitchen will become effortless and quick with the Sansui ProHome SMG03 750 W Juicer Mixer Grinder. This kitchen appliance features an efficient 750 W Copper Motor, Stainless Steel Jars, and Unbreakable Lids for hassle-free grinding and mixing of food ingredients.
How to get this deal:-
Click On Get Deal
Add Sansui SMG03 ProHome 750 W Juicer Mixer Grinder (4 Jars, Blue, Black) in the cart from the offer page.
Select your address, Payment method and Place Your Order
Pricing Details
Sansui SMG03 ProHome 750 W Juicer Mixer Grinder (4 Jars, Blue, Black) is available online in India at an offer price of ₹ 2,799 (37% discount from MRP) on
Flipkart
. Discounted Price: ₹ 2,799. MRP: ₹ 4,499. Savings: ₹ 1,700. Discount: 37 %. Store: Flipkart. This deal was updated by
karan
on Dec, 16 2022 at 11:13 am
ShortDeals.in is a participant in the Amazon Services LLC Associates Program, an affiliate advertising program designed to provide a means for sites to earn advertising fees by advertising and linking to Amazon.in
"Amazon and the Amazon logo are trademarks of Amazon.com, Inc. or its affiliates."
All the Logos and Brand names are property of their respected Owners. Shortdeals.in may be compensated if consumers choose to utilize some of the links located throughout the content on this site and generate sales, Lead, Signup, Joining or any other Action on the merchant Platform.